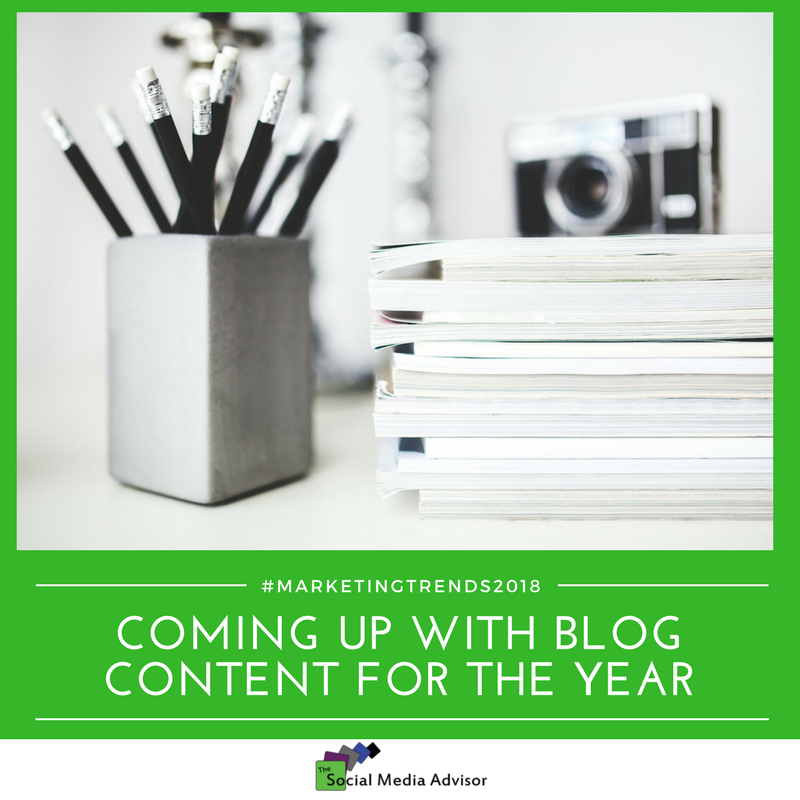 #MarketingTrends2018 – Coming Up with Blog Content for the Year
It's hard to know just how many 
blogs
 there are out there. Some estimates put the number as high as 152 million. That's a lot of blogs. So if there are that many blogs then it must be easy, right?
No question, it's easy to start a blog. What's not so easy is maintaining vibrant and creative content. When it comes down to it, most blogs aren't all that effective when it comes to maintaining reader interest, attracting new customers, and engaging the community.
The reason that so many blogs miss the mark is that their content is unfocused and fails to support 
business
 objectives. Yes, it's all about the content. But how do you come up with good content week after week? Here are five tips on ways you can spark those creative juices and develop engaging and consistent content.
Create a plan

: Your number one weapon in battling with blank pages is to develop a strategy for your content. That means mapping out what you want to talk about for over a period of time rather than coming up with your topics on an ad hoc basis.

Stick with themes

: Having a social media strategy that incorporates a series of themes can be a highly effective strategy for deciding on what to include in your blog.

Build on your most effective content

: Look back on what content has worked for you in the past and make it better. It's ok to repurpose an old topic or resurrect something you haven't talked about in awhile. Of course, you'll need to take a fresh approach but if something caught your readers attention once before, chances are it will again.

Talk with your community

: Asking the people in your community what they want to hear about can be a great way to find your focus. Cast a wide net by including not just your customers, but all those with whom you collaborate.
Don't look at the process of coming up with ideas for your blog as a task to be avoided. Instead, view it as an opportunity to learn something new, engage with your community, and have some fun. When you embrace the 
process
 you'll be able to say goodbye to sitting in front of the monitor and staring at the dreaded blank page. In fact, you may even find yourself looking forward to it.
#MarketingTrends2018, Brand Storytelling, Editorial Calendar, marketing trends, Social Media Marketing, storytelling