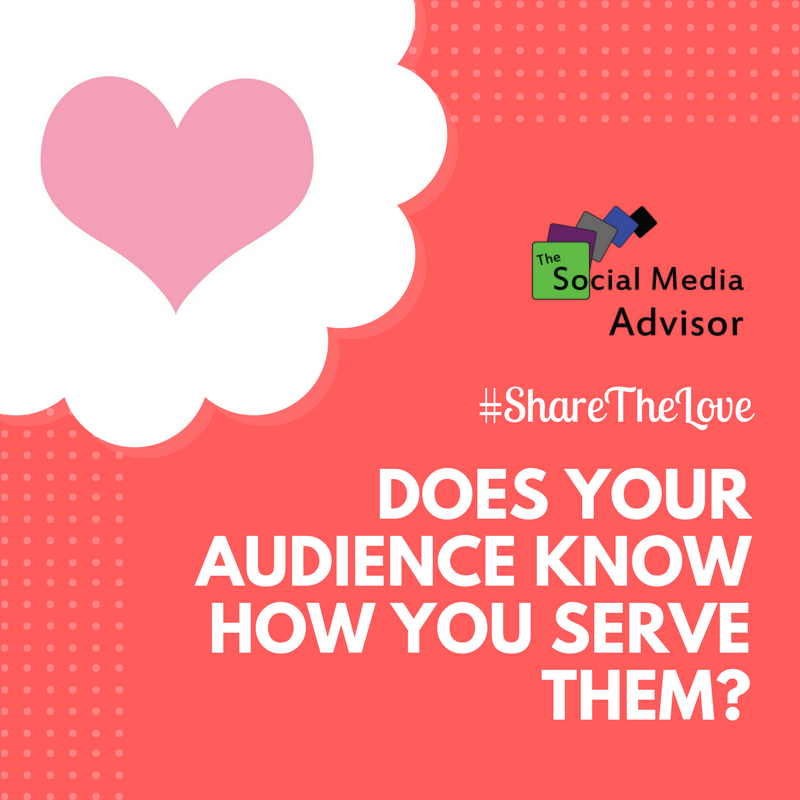 #ShareTheLove – Does Your Audience Know How You Serve Them?
Growing a following on social mediais usually a big goal for businesses. Business owners spend a lot of time and money creating social media accounts that look good, showcase their brands, and (hopefully) keep growing a following.

 
In order to keep your audience, you need to make sure you're serving them in a way that makes them feel valued.

 

So how do you better serve your audience? Here are some tips.
The best way to serve your audience is to have a good understanding of who they are. Start basic, with things like occupations, interests, and hobbies. Then think about your audience in terms of how they interact with your business. Why are they a follower of your profile? What does your business offer them that they need? What can you share that would get them excited?
If you've done your homework and know who your ideal customer is, this part should be easy!
Share Content that Nurtures Them
Once you know WHO you're serving, you can make sure the content you're sharing is something they'll love. There are lots of ways to do this! You could share a news article with important industry-related updates. Or, you could offer free resources and helpful tips they can use in their lives or businesses. Think about WHO you're serving, and then WHAT these people would value. That's what you should be sharing.
It's not enough to just schedule content anymore. You need to connect with your audience! Consider hopping on a live video and chatting with your followers. Host a Q&A on your page so you can answer their questions. These are great ways to form connections.
When people post comments, tag you in posts, or send messages, make sure you are responding. This is especially important if someone is asking you a question. If you have a system for monitoring tags, comments and questions, your audience will feel like you are engaged and that you care about them.
It's not enough to post things you thinkyour audience will love. You need to take the extra step to monitor engagement after you post. If engagement is high when you post helpful tips, for example, that means your audience likes that kind of content, and you should be creating more of it. Listening to your audience and sharing more of what they love is one of the best ways to make them feel valued.
If you respect your audience and show them that you value their engagement with your social profiles, they'll want to stick around. Using these tips will help you maintain a loyal following that will ultimately turn into loyal customers.
Be sure to Follow us and Let's Engage!
#ShareTheLove, engagement, Relationship Marketing, Social Engagement, target audience