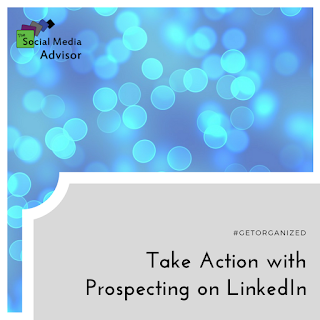 #GetOrganized – Take Action with Prospecting on LinkedIn
No matter what your business is, the people you connect with are the key to your success. Those connections are the key to sales, operations, and how you get your work done. No doubt you have lots of ways to keep in touch—phone, in person, social media, email. But what about making new connections?
Those methods are all effective when it comes to your existing contacts. But what about finding new prospects?  You probably already network, ask for referrals, and maybe even advertise. But are you using LinkedIn to find prospects?
LinkedIn is well known as a great place to find a job, connect with colleagues, and keep up with what's going on in your industry. What you might not know, however, is that one of LinkedIn's newest tools, the Sales Navigator, is a powerful platform that can help you uncover potential sales prospects.
Why Should You Be Using LinkedIn?
The true value of LinkedIn is that it gives you access to millions of professional people just like you. That's a pretty good size social network. Maybe even too big since it can be hard to know where to start. That's where Navigator comes in. Using Navigator you can narrow down your potential contacts to those with whom you have something in common or mutual business interests. Whether that is decision makers, influencers, potential partners, or buyers, you'll be able to reach out and make contact. Once you've found your target,it will be up to you to make the sale.
Using LinkedIn For Research
As valuable as LinkedIn is for connecting with others, it isarguably even more helpful when it comes to research. Using Navigator, you and your sales team can learn more about those you come in contact with – what are they talking about, what are they sharing, who do they follow. By taking advantage of this powerful capability, you can ensure that your connections are more meaningful and substantive.
One thing that you need to know is that LinkedIn Sales Navigator is a premium service and is not free. Exactly how much it costs depends on the type of membership, but you can expect somewhere between $75-$100. Is it worth it? Only you can make that decision. Your best bet is to take advantage of a free trial or sign-up for a short period and put it through its paces. If you take advantage of all the tool has to offer, chances are you'll be hooked. Before you know it, your sales calls will be more focused, your network larger, and your relationships deeper. With all that, increased sales will be the icing on the cake.
Be sure to Follow us and Let's Engage!
Hollie Clere of The Social Media Advisor is a "#BeAwesome" Developer, Social Media, Brand Builder, Content Manager, Trainer and Author in LinkedIn, Facebook, Twitter, Blog, Google+, YouTube, Pinterest, Instagram and the tools to manage them.
Click here for Social Media Training, Speaking and Strategy Consultations.