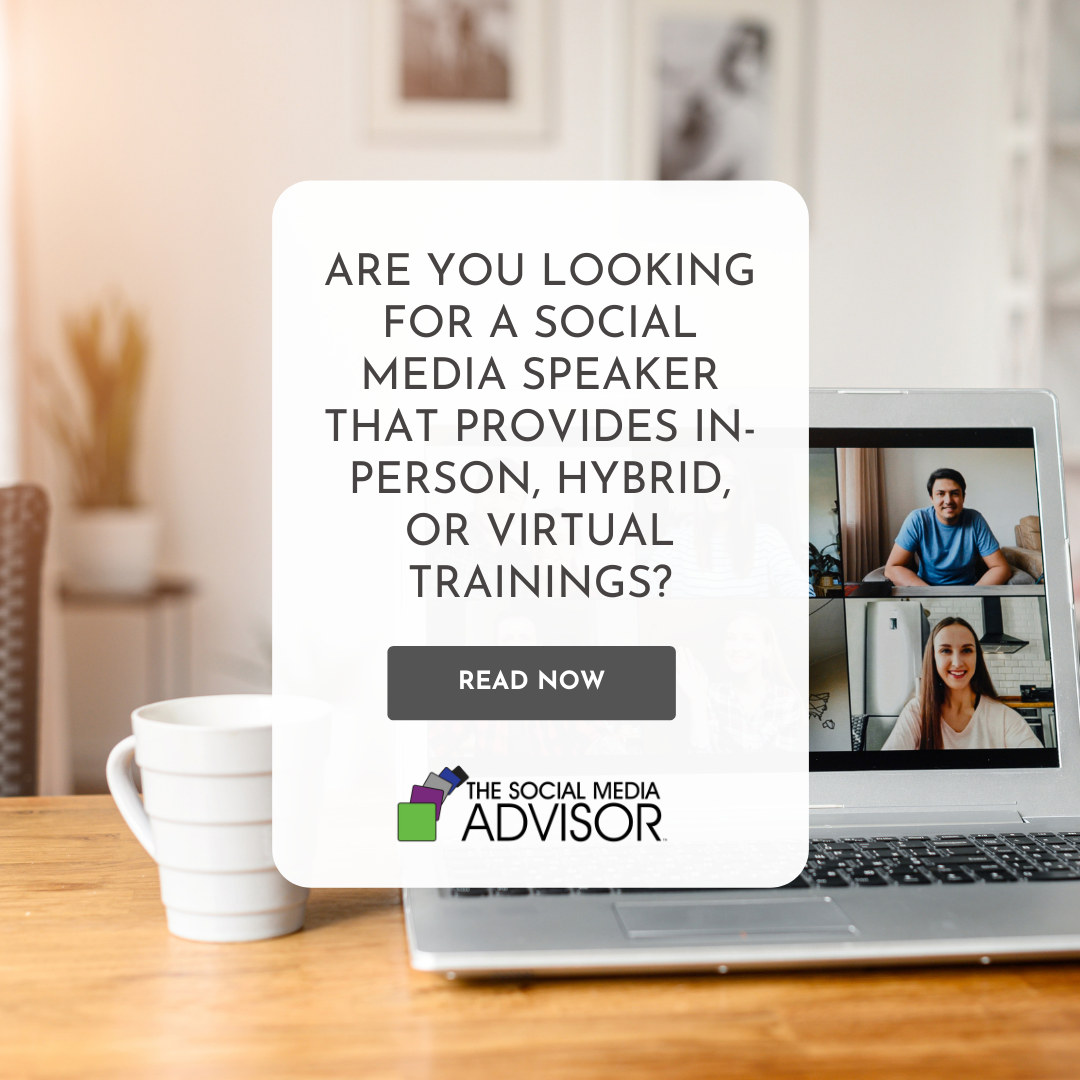 Are You Looking for a Social Media Speaker that Provides In-Person, Hybrid, or Virtual Trainings?
It would be remiss to not mention that people are just not going to be excited for quite some time to sit in a classroom setting to learn strategies to improve their lives or businesses. 
During the 2020 Pandemic, our Social Media Expert hosted hundreds of meetings virtually and participated in virtual and hybrid conferences.  The key factor, whether in person or online, is to deliver high value content with high energy and a bend towards keeping the audience engaged. This is what we have been able to achieve in our presentation processes. The audience feels engaged, remains attentive, and we keep the content interactive.
How, as a business owner, can you benefit from this type of experience?
Custom Corporate Training Sessions
With your remote workforce, training has probably been put on the back burner. You know that you can schedule a Zoom but you worry about keeping the team interested and engaged during the training. Your virtual training doesn't have to be a snooze-fest! We can work together to create a custom virtual or hybrid experience that meets your expectations and doesn't feel like a chore to your team. This can be done from small person teams to large corporate functions.
Learn Strategies for Team Building, Client Nurturing & Team Engagement
Yes, we've all heard about Zoom fatigue – but that's because organizers are not being intentional about engagement with their virtual and hybrid events. These virtual tools allow even a long distance team to connect and bond in fun and engaging ways! When working together we can brainstorm strategies for team building events, to sessions to nurture and love on your clients, or simply to keep the staff connected and engaged with their work and their company.
Using LinkedIn to Saturate Your Market and Messaging
These virtual events work especially well on LinkedIn. Organizing regular networking or educational events virtually will help you stay top of mind and keep you in front of your audience. 
Do you find it overwhelming to run the content of a virtual event AND remember to engage with your audience? It's a common problem with an easy solution. Hire an expert to handle the engagement portion of the event. 
Are you looking for a social media company to train your staff on online marketing strategies and equip them with the tools to maintain engagement, spark interest through Linkedin, and build a solid foundation company wide? Call the Social Media Advisor!
Be sure to Follow us and Let's Engage!
Hollie Clere of The Social Media Advisor is a "#BeAwesome" Developer, Social Media, Brand Builder, Content Manager, Trainer and Author in LinkedIn, Facebook, Twitter, Blog, Google+, YouTube, Pinterest, Instagram, and the tools to manage them.
Click here for Social Media Training, Speaking and Strategy Consultations.