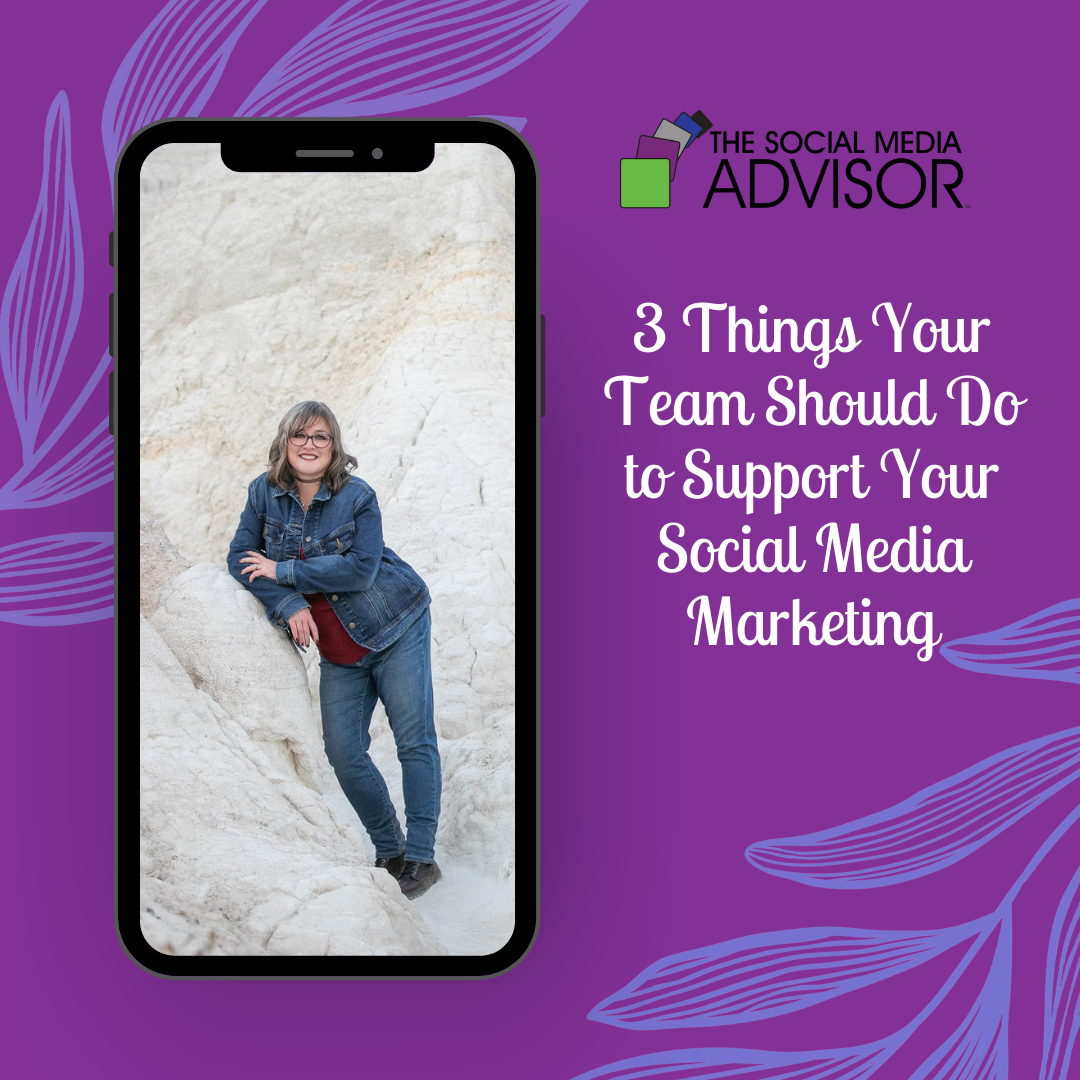 3 Things Your Team Should Do to Support Your Social Media Marketing
Once you have a handle on consistently sharing your brand story on social media, it's time to brainstorm how to encourage and incorporate every member of your team in supporting your social media marketing efforts. Marketing doesn't have to be done in a silo. Everyone in your company can like, comment, share, and engage in online conversations around your brand.  
Here are some ways you can encourage your team to support your social media efforts:
Social Media Training
The best support you can give your team is to set up policies and guidelines for social media marketing for your brand and then provide education to your team on not only the proper way to interact with your audience online, but also providing training to help them understand concepts like algorithms and engagement so they understand how social media works and how best to utilize it. This encourages brand ownership and motivates your team to spend more time online, growing and interacting with your audience and customers.
Engage with Your Brand Online
You may have an individual on your team that is responsible for monitoring social media and engaging with followers. If you don't, you certainly should. However, by giving the rest of your team a bit of ownership when it comes to interacting with your audience online – you can increase your reach and impact, earning even more trust from your followers. The key is to train your team first, to ensure everyone is on the same page about what is or isn't okay, and then regularly encourage your team to spend time online engaging with your audience. 
Become a Brand Advocate
The first two tips will amplify this one. Once your team is confident in their ability to interact with your audience online and is excited about taking some ownership in social media engagement, they very well may become some of your strongest brand advocates. You'll know it's successful if your team shares your information on their own feeds and doesn't just spend their online time on your brand channels. 
While you can't force someone to become a brand advocate for you, encouragement and regular practice using social media on your behalf may, naturally, unfold into creating more advocates for your company online. These advocates for your company will be excited about sharing positive messaging and stories about your brand and will have more empowered ownership in their role at your business.
Many companies either don't consider or don't take the time to expand their social media efforts outside their marketing department. It's a safe bet to have a trusted, experienced marketing professional or someone in leadership exclusively handle social media. However, even more potential exists to make your social media marketing mean more than just an online marketing effort when you train and encourage your team to participate as well.
Are you looking for a social media company to train your staff on online marketing strategies and equip them with the tools to maintain engagement, spark interest through Linkedin and other social media platforms, and build a solid foundation company-wide? Contact us to set up a training session for your sales team to improve your online marketing efforts.
Be sure to Follow us and Let's Engage!
Hollie Clere of The Social Media Advisor is a "#BeAwesome" Developer, Social Media, Brand Builder, Content Manager, Trainer and Author in LinkedIn, Facebook, Twitter, Blog, Google+, YouTube, Pinterest, Instagram, and the tools to manage them.
Click here for Social Media Training, Speaking and Strategy Consultations.
Social Media Marketing, Social Media Strategy, Social Media Training